B
right Ideas Preschool is an independent early childhood center serving children six weeks to six years old. Our programs provide a warm, loving environment that inspires independent thinking, creative expression and personal excellence. Our small class size and experienced teachers provide a childhood experience that is challenging yet playful. At Bright Ideas, children believe learning is fun!
"Thank you for considering Bright Ideas for your child. I am confident you will find our early childhood program to be a perfect balance between fostering a playful childhood and offering an enriching start to academics.
Bright Ideas is not a large chain or franchise. I am a native Newporter. I opened this school in 1991 motivated by the need to provide a positive early childhood experience for my two daughters. At Bright Ideas I keep the class sizes small, student-to-teacher ratio low and the curriculum challenging, creative and unique. The curriculum was written to provide my daughters and every other child here a blend of academics in a setting which encourages individuality, creativity, success and a love for school.
In addition to being a parent, I am a speech and language pathologist and a certified early childhood and elementary teacher. I have previously worked for the Rhode Island public school system and early intervention. While I enjoyed those positions I welcomed the opportunity to create the kind of early education experience young children need. I am fortunate to have a dedicated and experienced faculty who can implement this approach."
Maureen ("Meme") Greichen Kielbasa 
Director, Bright Ideas Preschool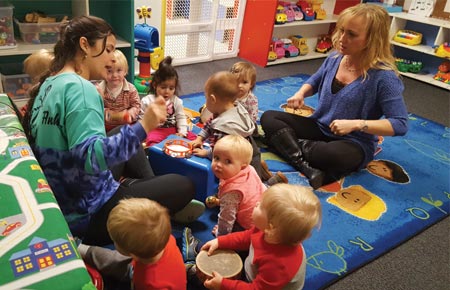 Located in Middletown, Rhode Island, Bright Ideas Preschool is an independent early childhood center for children ages six weeks to six years old. It is privately owned by Maureen ("Meme") Greichen Kielbasa since 1991. Since this time, the program and facilities have been continually expanded and improved to better serve the needs of our children.
Bright Ideas carries a rich history in progressive early childhood education. The school enrolls approximately 100 students from Newport County and southern Rhode Island. Over the years we have savored the pleasure of watching many of our children arrive in diapers and leave us to enter first grade. It is a bittersweet pleasure of which we never tire.